[Skip to Content]
A Denison Adventure - There are still a few spots remaining, so register today!
When
Friday, March 15, 2019 – Friday, March 22, 2019

Where
From London to Leicester to Fotheringhay, and back again

An exclusive and exciting Denison Seminar for alumni, family, and friends of the college
Register Now
Come spend a week in England as two popular Denison professors
recreate their magical on-site seminar that compares the science surrounding the recent discovery of Richard III's skeleton with the perception of the legendary monarch presented in history and literature.
Last fall, English Professor Fred Porcheddu '87 and Geosciences Professor David Goodwin team-taught a Denison Seminar course titled "Looking for Richard III." The professors and students actually spent a week in England at key locations related to Richard III and met with the project manager and lead archaeologist on what is called the Greyfriars dig in Leicester. The seminar received rave reviews and generated countless requests that it be replicated. Now, Fred and Dave are offering this same weeklong experience exclusively for alumni, family, and friends of Denison. In addition to the many unique classes, tours, and group activities that are planned, we've designed the itinerary to include some unscheduled time along the way, too, so that you can explore and experience both London and Leicester on your own.
The Faculty
These Two Veteran Professors Share Their Unique Perspectives.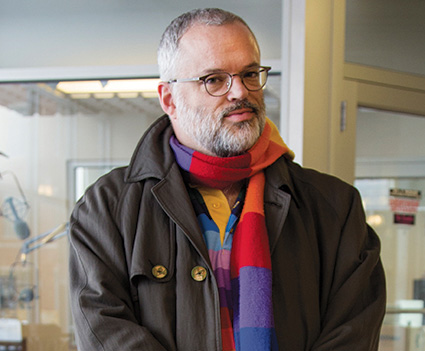 Fred Porcheddu '87
Associate Professor of English
A 1987 Denison graduate, Fred returned to join the English faculty in 1992 with his Ph.D. from Ohio State in hand. He teaches courses on medieval and early modern British and European literature, as well as on the history of the English language, the works of J.R.R. Tolkien, children's literature, and queer studies. He has published essays and reviews on textual criticism, paleography and codicology, medieval manuscript collecting, and literary history. Fred was the inaugural recipient of the Kleindienst Endowed Professorship at Denison in 2011, and he currently serves as chair of the faculty and chair of the Department of English.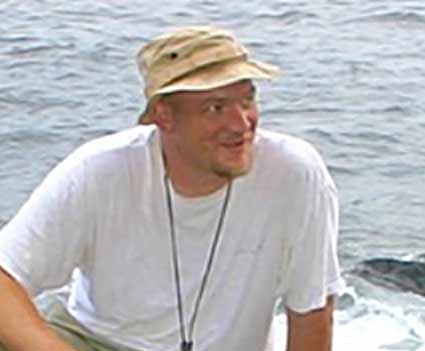 David Goodwin
Associate Professor of Geosciences
Dave joined the geosciences faculty at Denison in 2003. Today, he also teaches in the college's data analytics major and computational science concentration. He holds a B.S. from Lyndon State College, an M.S. from the University of Montana, and a Ph.D. from the University of Arizona. Named the holder of the Tight Family Chair in the Natural Sciences in 2014, Dave's research involves documenting and interpreting records of environmental variation. Among the courses he teaches at Denison are Physical Geology, Historical Geology, Oceanography, Biodiversity, and Ecolonomics. Dave currently serves as chair of the Academic Affairs Council.
Pricing & Registration
Only 20 places are available so register early!
$750 USD
Registration Fee is $750 USD
---