[Skip to Content]
Prospect Day Details
We look forward to having you!
This full-day event is a great way to learn more about Denison University and the lacrosse program and gives you a unique opportunity to interact with our current players. The event is open to all First Years (2027's), Sophomores (2026's), and Juniors (2025's). As a side note- we realize that a 9 AM - 3 PM commitment is a long day. If you are only able to attend a part of the day, please let us know and we will work with you! We would love to have you join us and look forward to hearing from you. Please don't hesitate to reach out with any questions.
Program Coaches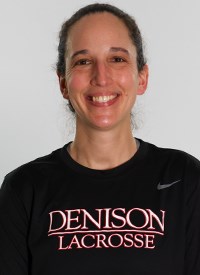 Amanda Daniels
Head Women's Lacrosse Coach
Amanda Daniels returns for her 11th season as Head Women's Lacrosse Coach at Denison University in 2024. She was also promoted to Associate Professor of Physical Education in the summer of 2023.
Few coaches have had a better start to their careers than Daniels. In 10 years and nine full seasons (2020 season was shortened due to COVID-19) as the Big Red head coach, she has guided Denison to nine straight NCAA Division III Tournament appearances, a Final Four appearance in 2021, five North Coast Athletic Conference championships and eight NCAC Tournament titles. From April 11, 2015, to April 2, 2022, the Big Red won 45 consecutive regular-season conference games.
At Denison, Daniels has compiled an impressive record of 122-53 (.697 pct.) while going 60-6 (.909 pct.) in NCAC contests. She was named the NCAC Coach of the Year in 2014 and 2016, and is a three-time IWLCA Great Lakes Region Coach of the Year in 2016, 2019, and 2021. On February 27, 2022, Denison defeated Dickinson College 17-11 as Coach Daniels earned her 100th career win as head coach of the Big Red.
In 2023, Denison finished its 10th season under Coach Daniels with an 11-11 overall record but advanced to the NCAA Sweet 16 for the eighth time in school history and for the fifth season in a row. The Big Red earned the NCAC's automatic qualifier to the national tournament after defeating No. 21 nationally-ranked Kenyon College by a score of 14-8 in the NCAC Tournament Championship. In addition to ending Kenyon's undefeated season, the win gave Denison its league-leading 16th NCAC Tournament Championship in women's lacrosse and was its eighth in 10 years under the leadership of Coach Daniels. Denison then made its 24th overall and ninth straight appearance in the NCAA Tournament. From there, senior Jane Bailey recorded seven points as Denison scored five goals in three different quarters to earn an 18-10 victory over Hope College during the first round of the NCAA Tournament before junior Merrill Rollhaus scored twice in the fourth quarter and netted the game-winning goal with just eight seconds left in triple overtime to propel Denison to a 10-9 victory over the No. 17 nationally-ranked University of Chicago during the second round.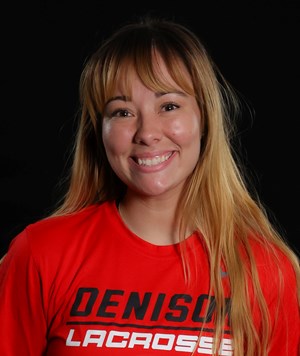 Kat Schneeberger
Assistant Women's Lacrosse Coach
Kat Schneeberger returns to Denison University for her second season as an assistant coach with the Big Red women's lacrosse program in 2024. Denison Head Women's Lacrosse Coach Amanda Daniels announced the hiring of Schneeberger as an assistant coach for the Big Red on September 1, 2022.
Schneeberger was most recently a graduate assistant women's lacrosse coach at NCAA Division II Tiffin University from August 2020 until May 2022. Before her time as a GA, Schneeberger was a four-year starting goalkeeper and four-year all-conference student-athlete on the women's lacrosse team at Tiffin. As a senior in 2019, Schneeberger started in all 19 games, led the Great Midwest Athletic Conference with an 8.85 goals-against average and a .496 save percentage over 1,071 minutes, collected 145 saves, and was a Second-Team All G-MAC pick. She helped lead her team to a 12-7 overall record and a perfect 7-0 mark in the conference while reaching the G-MAC Championship game.
Schneeberger was a first-team all-conference pick and was the GLIAC Goalkeeper of the Year after her freshman season in 2016 and followed that up with second-team all-conference honors over the next three years. Schneeberger concluded her career ranked second all-time in both saves and groundballs at Tiffin.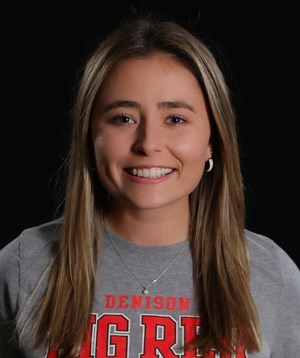 Tori Vernau
Assistant Women's Lacrosse Coach
Tori Vernau returns to Denison University for her fifth season as an assistant coach with the Big Red women's lacrosse program in 2024
In four years and three full seasons (2020 season was shortened due to COVID-19) since joining the team in September of 2019, Vernau has helped Denison to a North Coast Athletic Conference regular-season and tournament championship and subsequent NCAA Final Four appearance in 2021, followed by an NCAA Sweet 16 appearance in 2022 and then another NCAC Tournament Championship and Sweet 16 appearance in 2023. In addition, the Big Red have gone a combined 37-23 overall and 17-2 in the NCAC during Vernau's first four years in Granville.
Vernau came to Denison after spending the 2019 season as a graduate assistant coach at Elmira College in Elmira, New York. In 2018 she was an assistant coach at Alma College, where she helped the Scots increase per-game averages for goals and draws, and mentored two All-MIAA selections.
Vernau graduated from NCAA Division II Tiffin University in 2017 where she left as one of the program's all-time leading scorers, ranking third in goals (174) while departing as the program's career-leader in draw controls (310). She was a three-time Great Lakes Intercollegiate Athletic Conference first-team selection and a third-team All-North Region selection in 2016. That season she ranked third in NCAA Division II with 6.72 draws per game. Vernau was a Dean's List student and a member of the Alpha Phi Sigma criminal justice honor society.
Our Student-Athlete Experience
The Denison Women's Lacrosse Team means everything to me. From walking on the team freshman year and not knowing anyone to now going into my senior year, this program and team have become family. My teammates and the game of lacrosse have taught me so many life skills. A few that stand out are accountability, responsibility, and leadership. This program has given me the support and encouragement of living in New Zealand for five months by myself. It has pushed me to pursue a degree that fulfills me in Psychology and Education and it has simply pushed me to be a better person. I have learned skills that I wouldn't have been able to learn anywhere else. Skills that will resonate with me forever and I can't thank this program enough for that.

Carlie Grandjean '20 Midfield


Major: Educational Studies Minor: Psychology (Canton, OH)
Denison women's lacrosse to me means family. Our team has created a sense of sisterhood that I don't believe can be found anywhere else. The freedom to be who we are on and off the field builds the team chemistry that keeps us running. Denison women's lacrosse stretches much farther than just the field. We have lots of fun but know how to do get the job done. This team has made my Denison experience very special, and I couldn't imagine going through it without my teammates and sisters by my side, DUWL!

Molly Fischer '21 Midfield


Major: Communication (Barrington, RI)
From the first day on campus as a freshman DUWL gave me 32 people immediately looking out for me and supporting me. It is so special to be a part of a team at Denison because not only do we support each other, but the entire athletic community at Denison is there supporting you in the classroom and on the field. We push each other to be better athletes, students, and people.

Maeve Caldwell '22 Goalie


MAJOR: Educational Studies (Marblehead, MA)
DUWL has not only given me a second family on the hill but has also provided me with a comfortable environment where I can not only grow immensely as an athlete but also inspires me to become my best self every single day. The people on this team are the most caring, thoughtful, and most of all fun that I have ever met before and truly made the transition to college so much easier. That's what truly makes this team so special and Denison so different from any other school. We all really care about each other and root for each other on and off the field and at the end of the day, that's what really counts and makes our team have such good chemistry. I honestly would not want to play for any other team and am grateful every single day for this goofy group of girls and this school.

Casey McTague '22, Midfielder


Major: Educational Studies (Arlington, VA)
The Women's Lacrosse team has provided me with the most incredible support system, amazing teammates, and lifelong memories. Over the past four years, I have been able to excel in the classroom, lead different campus organizations, and study abroad- all well playing on a nationally ranked lacrosse team. The privilege of being a part of something bigger than myself has taught me lifelong lessons about accountability, leadership, and responsibility. I am a better person, teammate, and friend because of the Denison Women's Lacrosse program. I don't think I will ever be able to put into words how incredible my experience has been as a student-athlete at Denison. Committing to Denison to play lacrosse was the best decision my 17 year-old self made!

Annie Rau '23 Defense


MAJOR: FINANCIAL ECONOMICS, MINOR: STUDIO ART (DEVON, PA)
From the first moment I met the members of the Denison Women's Lacrosse team, I knew they would quickly become my family. My student-athlete experience at Denison has taught me so many important skills that I will use for the rest of my life. My teammates and coaches have taught me the importance of loyalty, accountability, and tenacity. This program has given me the best support group anyone could ask for to help me succeed in all areas of my college career. I have watched myself and my teammates grow into amazing people with encouragement and overwhelming love and support that is extended through the Denison Women's Lacrosse program and I will forever be extremely grateful.

Maddie Morrell '24 Midfielder


MAJOR: COMMUNICATION (PICKERINGTON, OH)
Pricing & Registration
$100
Sunday October, 22nd Prospect Day
Location and Directions
Denison's 900-acre hillside campus is in Granville, Ohio, just 27 miles east of Columbus, the state capital. Port Columbus International Airport is about 22 miles from campus and is served by most major airlines.
Venue
Burton Morgan Address (Registration Check In)
150 Ridge Rd, Granville, OH 43023
Clinic Field Address
100 Livingston Dr, Granville, OH 43023